Acknowledgment: indigenous land never ceded
(This website is under construction)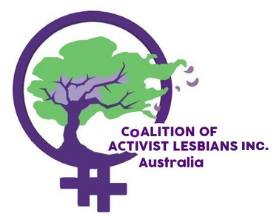 The Coalition of Activist Lesbians (COAL) Inc was formed in Australia in 1994 to work towards the end of discrimination against lesbians. CoAL was the first lesbian NGO (non-government organisation) to gain UN accreditation. We work with the UN Convention to Eliminate All forms of Discrimination against Women (CEDAW). CoAL was active at the Fourth World Conference convened by the United Nations in Beijing in 1995.
COAL lobbies the Australian Commonwealth and State Governments to remove discrimination against lesbians. Internationally, as a UN-accredited NGO, we advocate for the rights of lesbian women and girls to the UN Commission on the Status of Women (CSW).
The organization produces research papers and other resources about a range of issues relevant to lesbians, including health, violence against lesbians, lesbophobia and lesbian domestic violence.
We participate at various state, national and international events that discuss issues affecting lesbian and other women and girls, and liaise with a range of other groups within and beyond Australia on issues of common concern.
CoAL represents lesbian interests on public media and provides speakers to panels, webinars and video presentations.
In 2021 we amended the capitalisation (from COAL to CoAL) when we re-designed our logo.